Do you run a retail business or an online shop (or maybe even both!)? Then you can benefit from creating your own custom stickers to label the packaging for the products you sell.
With Stickeryeti, you can highlight the unique and original side of your business and build your brand recognition, whether it's a physical business or an online store, and create packing labels for bottles, packages, tubes or other plastics, glass or paper packaging that serve as branded containers for the items you offer in your store.
Ideal packaging stickers for your natural products
Stickeryeti's custom stickers for packaging are perfect for those who make and sell natural and artisan products. Whether you sell these products in your physical shop or through an online store, you can create your own packaging labels to add a personal touch and make your products even more original.
Packaging stickers for flasks, balms and natural sprays
Essential oils, healing flowers, moisturisers, balms, bottles, roll-ons and wellness sprays... all these handcrafted products are made with top quality natural materials, know-how and experience. Based in Lausanne (Switzerland), the Jolie Sorcellerie therapeutic office is run by Pascale who makes and sells magical potions and mixtures created with love and passion. Why don't you do as Pascale has been doing with great success and label your hand crafted and natural health, well-being or beauty products?
Personalise the same type of stickers
"Stickeryeti's self-adhesive labels attach perfectly and fit any surface I use, whether it's glass, PET or cardboard. Plus, I love the matte finish! The minimum purchase quantity is 50 stickers, which is great for a small business like mine, it allows me to operate with smaller stock quantities and to easily design and alter the labels according to my needs. In addition, the stickers are printed in Switzerland and it's very important, in my opinion, to collaborate with local companies."
Pascale from Jolie Sorcellerie
Packaging stickers for bottles, tubes and packs of CBD products
Self-adhesive packaging labels also lend themselves perfectly to natural products like CBD. B-Chill, a Valais-based company founded in 2017 and specializing in CBD, works with Stickeryeti to create their own packaging labels. The company produces its own CBD in the canton of Valais, in the form of permaculture, which allows nature to thrive.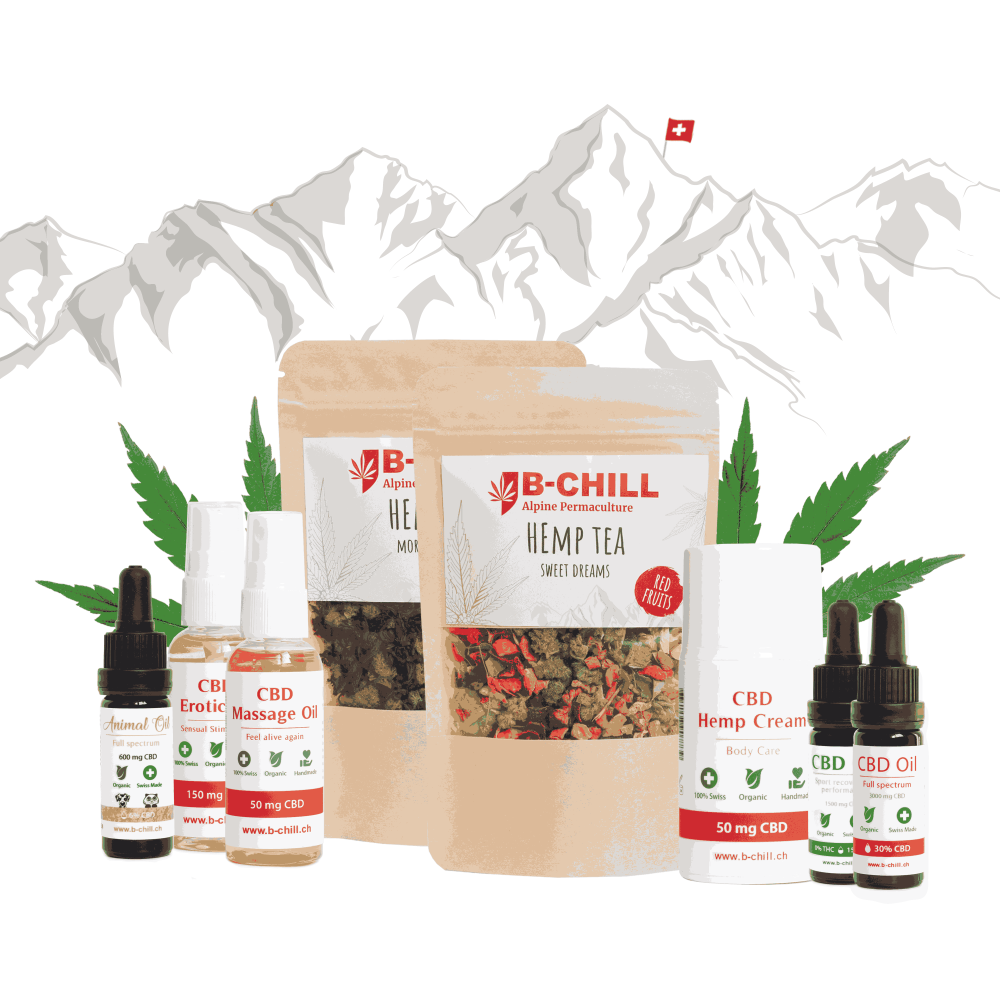 Through their online platform, B-Chill sells CBD flowers that are meant to be smoked and derived products like oils, teas and creams. The packaging labels created by B-Chill can be found on their oil bottles, cream tubes and also on their CBD flower and tea packages.
Create your own packaging labels
"We have been working with Stickeryeti for many years and we're always extremely satisfied with their stickers. As the first integral company in Valais, it's a real pleasure to collaborate with other local companies. We recently celebrated our 5th anniversary and it's also partly thanks to them - a big thank you to the Stickeryeti team!"
Benjamin Foro, CEO at B-Chill
Multipurpose labels of high quality to label your products
With multipurpose stickers, you can choose between different shapes: round, oval, square, rectangular, rounded corners or personalised shape. Your packaging stickers can even be printed on transparent background (in white or colored) or in pre-cut sticker sheets that allow you to integrate several different designs on the same page. For these multipurpose stickers, the minimum order quantity is 50 stickers, which is the perfect batch size for small businesses!
The matte finish, as a result of the final lamination step, gives the stickers a great visual appearance but also a much better quality. Unlike rolls of stickers that are intended for single use and large scale labeling, multipurpose labels guarantee a higher quality rendering and are therefore perfect for highlighting your natural, biological or handcrafted products in a beautiful way. These product labels are durable and made to last when applied to bottles, flasks, cans and packages containing your fantastic business products.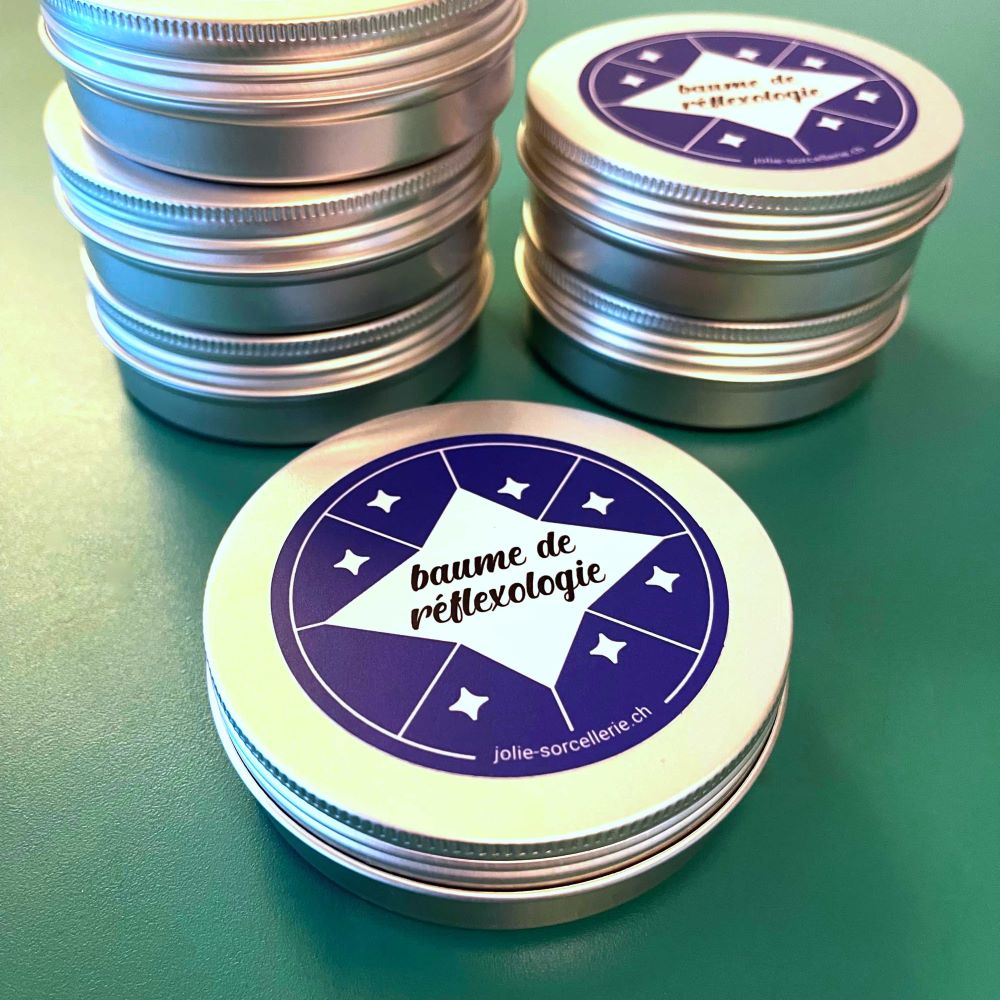 If you're part of a larger company or an individual looking to do mass labeling, we can also recommend label rolls for your product packaging. They're more economica,l but less resistant than our multipurpose stickers.This makes stickers on rolls perfect for single-use packaging such as take-away bags, small packets or other disposable packaging.
Your personal touch for visual marketing and brand building
The self-adhesive labels that you can apply to your products' packaging, such as packets, bottles, flasks and many others, are first of all used to provide customers with essential information about the product you sell : product name, specifications, contents, explanations, ingredients lists... 
But, it's also the perfect opportunity to add your own personal touch. Choose a design, colors and fonts that match your visual identity and branding. This can make a big difference, even if you're a small business - it will be easier for people to recognise your business name and identify what your brand stands for!
And it gives you the option to stay flexible! When you run out of custom stickers for your product packaging, you can play the innovation card for your next order and slightly adapt your design to highlight special editions, holiday periods or a new direction of your business etc. 
How to create your own custom packaging stickers for your products
It is very easy to create and order your own product packaging stickers! On our website, first choose the shape you want for your packaging stickers, then choose the size and finally the quantity you want. Then, upload the design you want to show on your stickers. Our designers will add the cutting line for free and you will receive a digital print proof within 24 hours to confirm the result and see the final sticker design.  
What if you have an idea in mind but no design file ready? Don't worry, you can use Stickeryeti's online design tool by simply adding an image, some text and colors of your choice! Let's get started!