Specialising in producing and printing 100% personalised stickers for companies, associations and sports clubs, Stickeryeti will give you some advice on how to create original stickers that won't go unnoticed!
Your custom stickers aren't getting the right attention from your customers? Your personalised stickers aren't increasing brand recognition and not driving more traffic and sales? Don't worry - Yeti has the solution for you!
1. Choosing the right type of custom sticker
Start by identifying your needs and what you want to achieve with your personalised stickers:
- Apply them to the products you sell?
- Apply them to packaging to promote your brand or business?
- To distribute them to customers and employees? 
- For signage on your premises and offices?
- For decorating a space or room?
- To communicate a message? 
- To increase your brand visibility?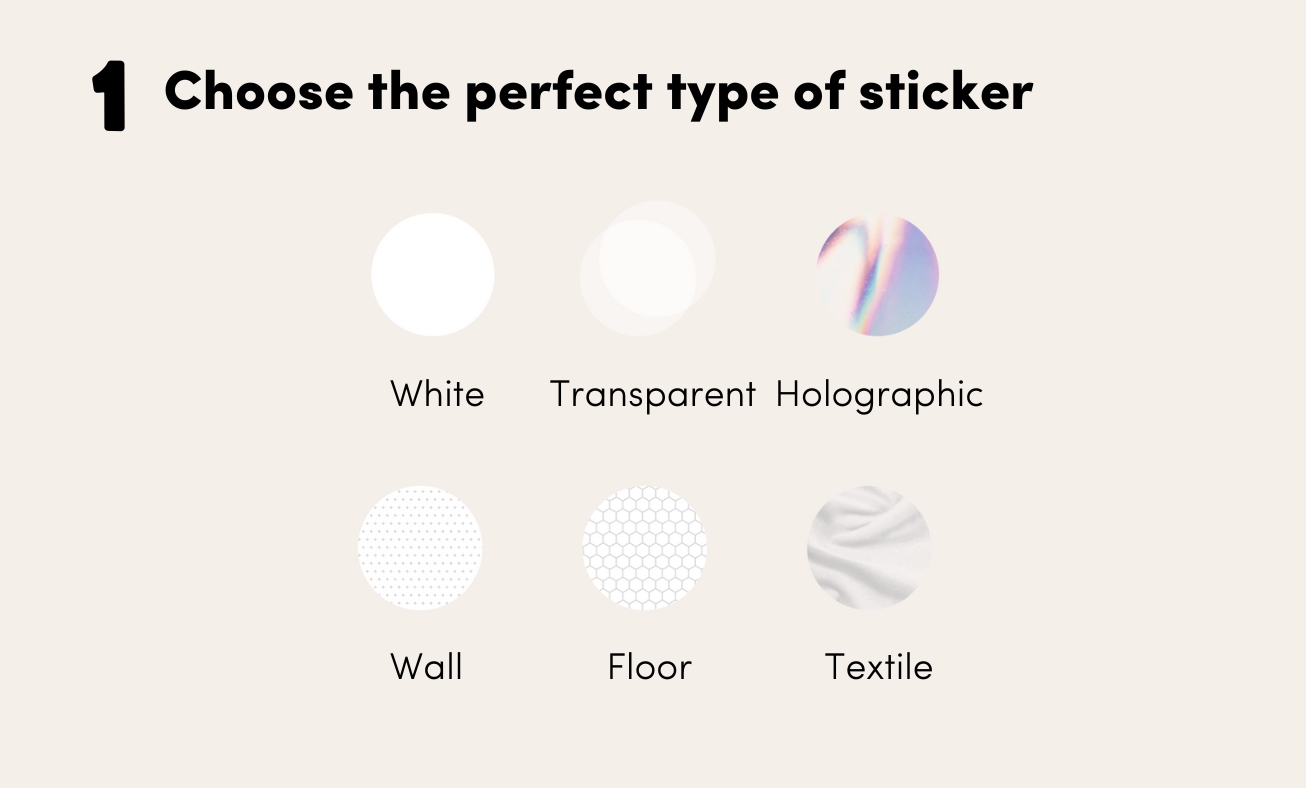 Identifying your specific needs and objectives will help you to choose the perfect type of custom sticker:
- Multi-purpose stickers : Yeti's bestseller, a perfect combination between functionality and affordability. Widely appreciated for their style, these customisable multi-purpose stickers are perfect to underline your brand and make all your products and creations unique. Print a logo, a slogan or a promotional message on them.
- Textile stickers : suitable for ironable textiles, iron-on stickers are ideal for adding a personal touch to your workwear, uniforms, aprons and promotional tote bags. The textile stickers are easily applied with an iron and can withstand several machine washes.
- Wall stickers : wall stickers are made of a revolutionary repositionable material that leaves no trace once removed. Use these special stickers as interior markings on the walls and doors of your business or shop.
- Floor stickers : our floor stickers are perfect for communication, signage and decorating professional spaces. The materials and production technique we use work together to ensure long-lasting adhesion to all smooth floors. Thanks to their protective coating, they are resistant to footprints and cleaning products, and the colours remain vibrant over time. 
- Label rolls : more cost-effective than multi-purpose stickers, label rolls are suitable for single-use and mass labelling. The labels from these rolls are easily applied to any smooth surface such as bottles, flasks and take-away bags. Whether you're a restaurant owner or a retailer, you can use these stickers to enhance your packaging and gain visibility!
- Sticker sheets : these pre-cut sticker sheets allow you to print different visuals on the same page. Ideal if you're looking to present more than just a logo or single message and is a great and original gift to your customers and employees.
Choose your custom sticker type
2. Select the ideal shape for your custom stickers
The advantage of working with Yeti? We offer customised stickers that meet your specific needs. Give free rein to your creativity and design a visual with a cut-out and shape perfectly adapted to your brand image, slogan or message. Round , oval , square , rounded corners , rectangular or fully customised … the choice is yours! You can also opt for other special cut-outs such as coloured print on transparent background or white print on transparent background.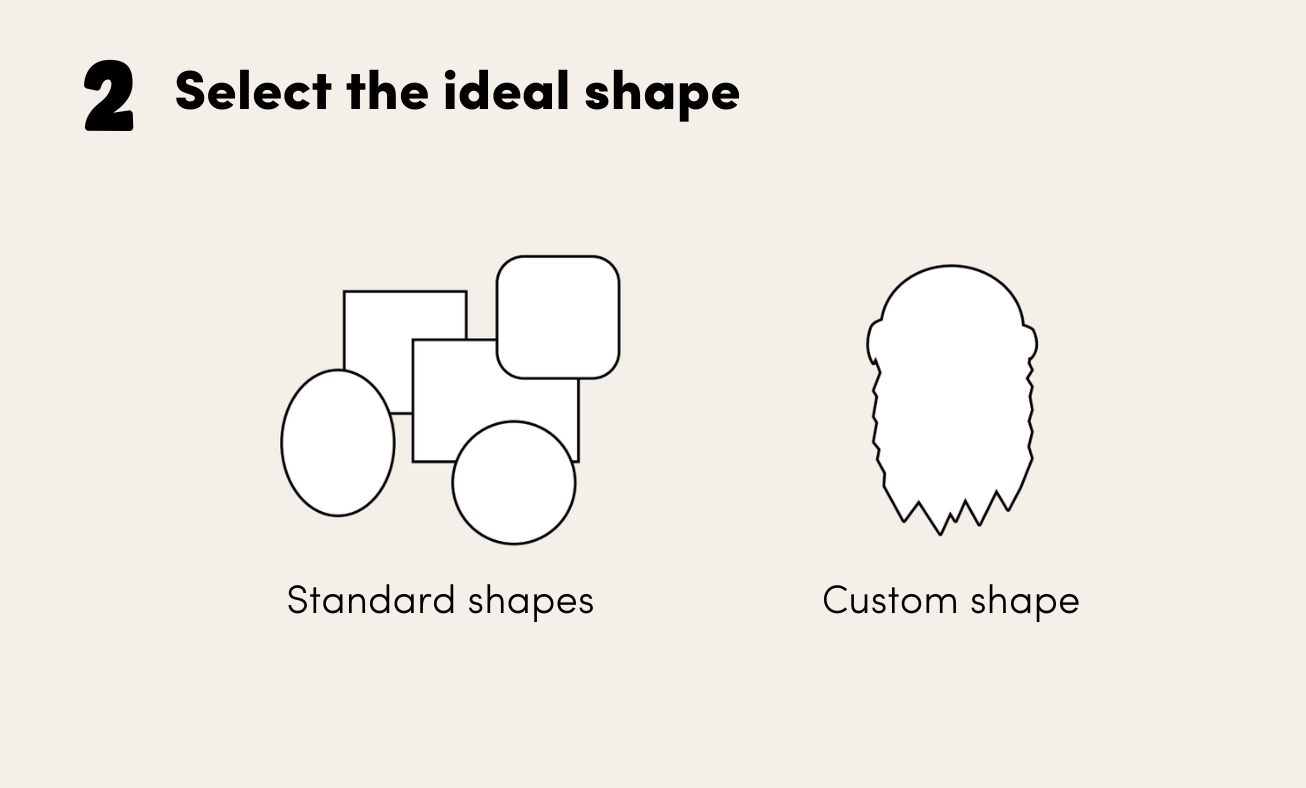 Must-haves straight from Yeti's cave: the die-cut and the round custom stickers .The former allows you to choose a 100% personalised shape for your stickers, based on the unique outline of your design. The second, one of Yeti's bestsellers, adds volume to your sticker and offers an elegant and modern visual at the same time. The round custom stickers are an essential that everyone loves!
3. Imagine a striking visual on your custom sticker
Yeti helps you with every step - from the initial idea and design to printing your custom stickers. If you already have your design ready, it will first pass through the hands of our design team who will add a professional cutting line to the sticker. If you don't have a design ready yet, no worries! Our multi-purpose and textile stickers have an online design tool that will help you create your design from scratch.
In any case, keep in mind that the visual is the heart and soul of your custom stickers. The more original and eye-catching your design is, the more of an impact it will make. Here are a few examples of designs that work best and will definitely attract attention:
- Using your own designs such as drawings, illustrations or tattoos
- The logo for your brand, company, business, association or sports club
- Photomontages
- Strong and engaging messages
- A funny or playful touch that will make people smile
4. Use eye-catching colours on your custom sticker
A great sticker that lives up to its potential doesn't just rely on an original design, but also eye-catching colours. Using more vibrant colours will make your sticker more visible and it's therefore much more likely to fulfil its communicative function. But be careful, it's not about overdoing the flashy yellow, pink and green colours, but more about putting together consistent colours that make the custom sticker attractive to look at.
As a brand, choose colours that best represent your visual identity and that are consistent with your other marketing materials. The more distinctive and recurrent your colours are, the more directly they will be associated with your brand.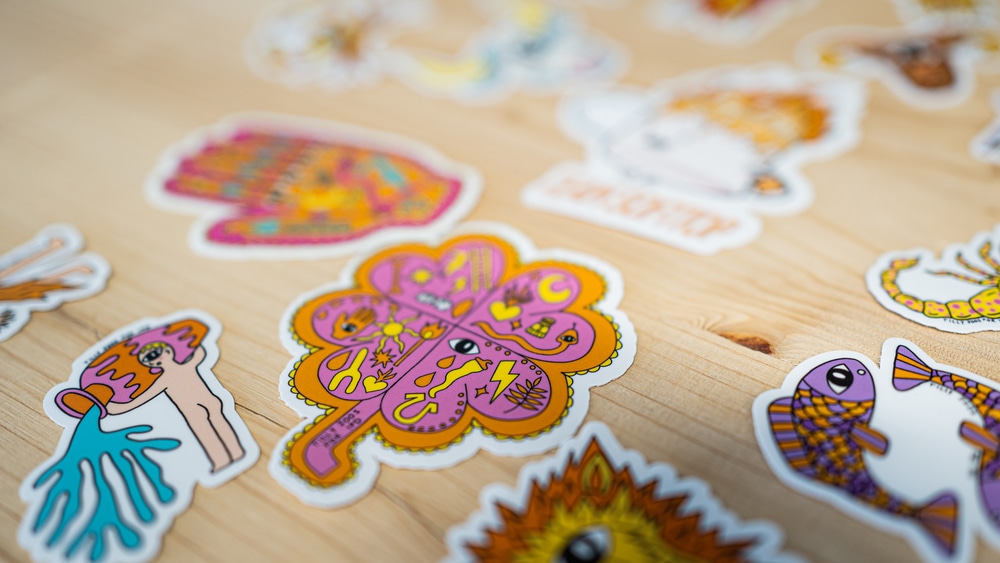 For an even more original and funny sticker, you can opt for a custom sticker printed on holographic vinyl. Holographic stickers will add a beautiful rainbow and metallic effect to your stickers and make them truly unique.
Discover our holographic stickers
5. Generate traffic and sales with your custom stickers
Make your customised stickers one of your greatest business communication tools and use them for your company, restaurant or shop! We recommend printing a QR code on your custom sticker that links to a social network page, a menu, a digital flyer or a website.
In addition to having a purely informative function, a QR code can be used to redirect customers or prospects with a personalised traffic monitoring link (UTM link), so you can track your sticker's success. You'll be surprised at the volume of visitors your stickers will bring you, it's a prime marketing tool!
6. Customise your stickers ad infinitely
And finally, here's Yeti's little bonus: you can use your custom sticker in an infinite number of ways. Many of our customers print their visual or logo on several types of stickers, in different shapes and colours, so that they have a wide range of possibilities at their disposal: personalised stickers to hand out to customers and employees, stickers to put on products, or stickers for walls, floors and windows, to communicate and work as signage on your premises.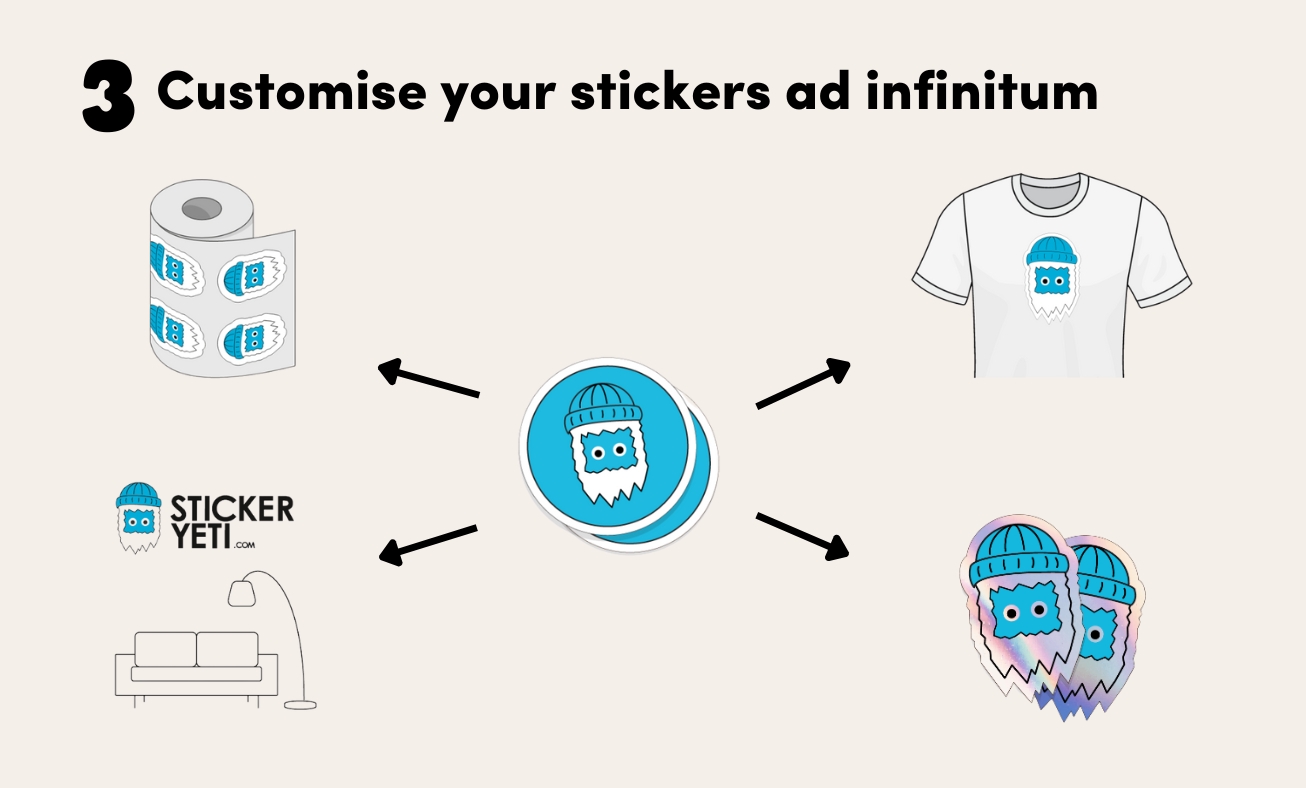 What's next?
Yeti takes care of the rest! Once you've sent us your design, the file will be handled and checked by our team of designers who will suggest a cutting line that meets your expectations. Once you have approved the print proof, your personalised stickers will be printed as soon as possible and then cut out by hand, All this will be done inside our own premises, located in the heart of the Swiss Alps.
Stickeryeti has a 100% local production cycle, and we handle the whole process starting from processing online orders to dispatching the custom stickers. Evident from being awarded with the Swiss Made label, Yeti makes a point out of manufacturing quality products that respect Swiss standards. Grrrrrrow!
Yeti is very much looking forward to seeing your creations! Don't hesitate to mention us on your social network pages, we will be happy to share your photos and add further visibility to your brand!